Torey Beach grew up with love and optimism. Born in California near the Sierra Nevada mountains, she was adopted by a wonderful family. She has a Japanese/Puerto-Rican father, a European mother, and a Mexican brother who was also adopted. She met her husband who worked at her dad's insurance company. Her dad became somewhat of a matchmaker and when she came home from college one semester, he worked his magic to have them meet. From there, they settled down right in the same area where she grew up, in Bishop, California to grow their family years later.
Having been adopted herself, Carson, her husband, and Torey were open to adoption themselves and were registered to do so through a local adoption agency. During that time, Torey became pregnant! At the first ultrasound, Torey went alone due to Carson being sick. To his surprise, she came home with a photo in which she gestured to not one, but two pairs of feet and hands.
When Torey got married, she had genetic testing done, just to see some bits of her history. Due to her having a rare CF gene, nothing was flagged related to CF, therefore, she did not realize she was a carrier. Post pregnancy, two newborn screen tests came back flagged along with three sweat chloride tests and four blood draws. Eventually, Torey and Carson ended up seeing a geneticist for full CF gene sequencing which confirmed the diagnosis of their children.
"Even though CF was unexpected, it has still been an awesome journey"
Arielle and Joelle were born and weren't officially diagnosed with CF until 8 months old due to neither of them showing any symptoms. Torey mentioned, gratefully, that she's relieved that her daughters are pancreatic sufficient, but their early years were not easy and nor were hers before their birth. Torey's pancreas failed one day, and she is now permanently on an insulin pump. She mentioned how she mastered that way before the kids came along and luckily so.
When Arielle was just over a year old, she had to have open heart surgery. It was expected that the recovery time for her would be longer than usual especially with CF, but she ended up being discharged just 3 days after. A few months later, Joelle had to have a cyst removed from her skull. Originally, the surgeries were 3 days apart, but Joelle's was rescheduled for later. Arielle's surgery was the first time that the twins had ever been separated and once Joelle was able to visit, all of Arielle's monitors leveled out, like she sensed her twin's presence and that produced a wave of calm. Torey emphasized how incredible that moment was and how strong their bond is and remains to this day. One of the cutest part about it all is that the twins call their scars "strong stripes" and love pointing them out.
Now, Torey said that managing their kids' health is easy now that the twins can each do their own treatments and hold their own nebulizers. They refer to their care team as the "healthy people" as well as anyone else who helps them with CF. Like the amazing parents that they are, Carson and Torey make sure their daughters thank the doctors or whomever for helping them in which the twins are very aware and appreciative.
"Positivity is key"
Because of their CF, Torey and Carson have restricted their children's external interactions to protect their health. This even includes re-organizing their house where a whole closet is dedicated to CF and sterilization stuff. They screen parents, are very cautious of who the girls interact with and have learned to become more assertive with asking people to wash their hands or use hand sanitizer, fondly known as "tizer" to the girls. Different seasons are of more concern than others, such as winter where colds and flus are common. Torey makes sure to even go to the grocery store around 8 pm at night to reduce the risk of bringing many germs home. Socially, sometimes the girls don't get to go to some birthday parties, but Torey and Carson have done their best to provide as "normal" of a childhood for their daughters as possible. Financially, they've invested their money into the well-being of their kids and have incredible support from Torey's parents who even bought Arielle and Joelle's vests for them at 18 months.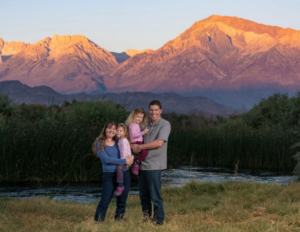 Torey feels that her support team is endless and for that she's extremely grateful. Her best advice to new parents who have learned that their child has CF is to "keep going" and "take the bright path." She acknowledged that many ask her how she does it, when the reality is she just does. "You have to, and you take it one day at a time," she commented. Although the first diagnosis is heart piercing and beyond overwhelming, seek advice from the care team. Do the basics first and follow through with what your kids need. She recalled, "I noticed a lot of people don't follow through with treatments – don't let your kids skip treatments – long-term, it's their health that you're gambling with." She concluded that accepting help made everything much easier along with having an attitude of gratitude and reading about CF. "Educate yourself as much as possible," she emphasized. She loves the community that she's found with others who have CF or whose children do, and her wisdom continues to inspire others and motivate her to be the best mother that she can be to her wonderful children.
Follow the twins' journey on Instagram: @twin_cf_sisters