"You are not alone, you can do it, you can climb that mountain, whatever that may be, whether it is an actual mountain or to be a ballet dancer… you can achieve it by persevering" – Lung Story Short
The bond between sisters is unbreakable, and even impenetrable when they are battling for each other. This is true of sisters, Rima and Laima, who are in the cystic fibrosis fight together. Rima is the sister fighting cystic fibrosis, but she insists that Laima is in the fight equally to herself even though she does not have the disease. The sisters had a fun, heartwarming exchange in an interview with PTI about who's story it is, which lead to the sisters bickering and Rima saying, "Our story!" Their love for life instantly jumps right out at you. This love for life is shown in their blog, "Lung Story Short", where Laima captures their journey. The blog captures not only the high points of life, but also the low points. "Lung Story Short" conveys the raw emotions of going through this disease, but it does not stop them from living life at the fullest potential.
"We got the mountain tattoo basically because CF is like climbing a mountain, it's very difficult and challenging, so [we] put the genotypes on each side to represent that" – Rima
Rima and Laima are adamant about life outdoors and seeing the world. Their love for mountains holds a special place in both their hearts… and their biceps! "The peaks and falls of the landscape perfectly represent the daily struggle of living with CF," Laima talking about their matching tattoos on their blog. Through each other, they can be at the summit in their battle. They stop at nothing to get back up to the next peak after getting stuck in a col. Rima and Laima keep discovering the next peak because of their cohesive skill sets. Rima stays steady with her positive mindset and desire to fight, while her sister is ready to plan and figure out their next move. They function as one team; and this creates a powerful and everlasting bond.
In the Fall of 2015, the sisters faced one of their toughest challenges yet. Rima was living in Boston undergoing treatments, while Laima was working in NY. Rima was advised to move to Colorado because she would receive the best treatment and odds for a lung transplant. Laima then decided to leave her job in Brooklyn, NY to focus solely on her sister. Sadly, the University of Colorado would not operate on Rima because they deemed her likely unfit to fight infections post-surgery. This would prompt the sisters to fight even harder to find Rima new lungs and keep climbing the mountain.
This lead them to the University of Minnesota in April of 2016. They drove thirteen hours to get an evaluation for her ability to receive a transplant. Finally, in September of 2017, Rima and Laima moved to Minnesota and Rima's surgery was approved. Rima underwent a successful lung transplant this past May. The girls would be known around the hospital as the "question queens" by the staff. This was because both Laima and Rima would constantly be asking how far Rima could push everyday activities. On May 29th Rima reached the summit of the mountain range. She had the last two remaining tubes removed from her body, which gave her the ability to finally go home.
Rima and Laima are no ordinary siblings; they are extraordinary. They find love in battling the fight of cystic fibrosis by making air catchers, being one with nature, and getting matching tattoos that perfectly explain the everyday battle of cystic fibrosis. There is such a beauty in the way these girls fight for each other every day to keep climbing their own mountain. Rima and Laima have gotten back up again and again to achieve that goal. Rima is currently recovering from her surgery, but from her recent interview with PTI she seems to have a new goal in mind. Her eyes lit up with excitement when talking about wanting to climb the Rocky Mountains and the Appalachian Mountains. If Rima and Laima could go through all the hardships of finding new lungs and come out on top, there is no question these sisters will be able to reach the summit of their next journey.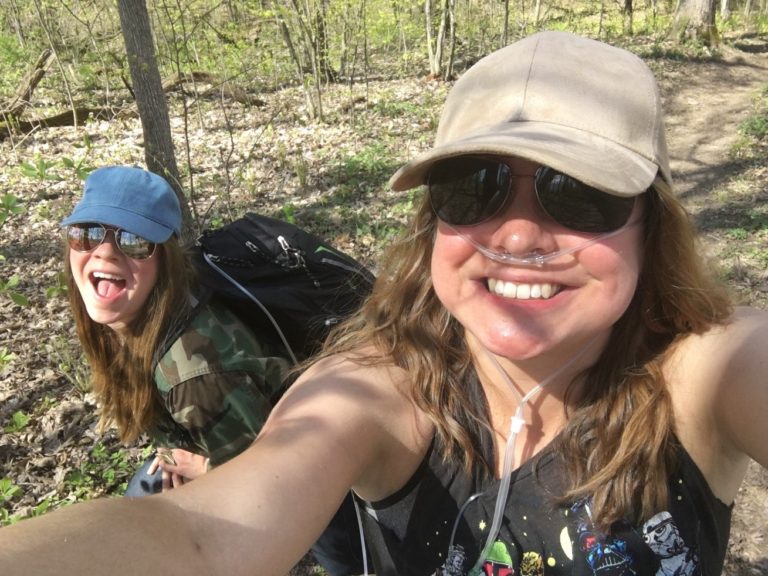 You can follow 'Lung Story Short' here:
Website: http://lungstoryshort.com/
Facebook: @lungstoryshort
Instagram: @lung_story_short
Twitter: @lungstory_short