"I say it all the time, but I truly believe cystic fibrosis is a blessing in disguise"
Starting from her earliest childhood memories, cystic fibrosis has tinged Carmen's life with serious colors. From the IV drip in her chest since she was three, Carmen has been forced to realize that life is, and always will be, more than just playing with her favorite LEGO® blocks. Despite outgrowing LEGO® toys, Carmen continues to build, but instead of using plastic blocks, she is crafts her life story through relationships. "I've always been a huge relationships person, since I was small", she explains. Carmen cares deeply for all those involved in her life; and her loved ones respond with a similar attentiveness that uplifts her during difficult times with CF.
As a storyteller, Carmen's building blocks are her narratives about herself and her loved ones. At age 14, she decided to research her disease and felt her whole world crumble around her. Learning about limited life expectancy and other daunting aspects of cystic fibrosis, Carmen felt a loss of control and the need to rebel against her identity as an ill person. She stopped putting in the effort towards hours of daily medication. However, her parents would not let her slide so easily. Her dad would remind her of her daily medications and her mom would entice her to watch TV shows together while using the nebulizer. "My parents were always supportive, never really that demanding," Carmen tells us. Despite her strong desire to hide in a dark, private corner alone, Carmen found strength to fight CF everyday out of love and respect for her parents.
At age 16, Carmen's CF symptoms flared up drastically, requiring her to be at the hospital every other month. The doctors told her she would need Afflovest®, a device necessary to loosen up the mucus in her lungs. Unfortunately, she could not afford the vest because of its prohibitive cost. Carmen resorted to lessons learned as a rebellious 14-year-old who found a way to accept and embrace help from others to fight against the disease. She decided to form new relationships and to expand the circle of those who could give her support and help. With the help of her sister, Carmen created a campaign "Carmen Breathes" to raise funds for her Afflovest® and to connect with the cystic fibrosis community.
Carmen has learned to fully embrace cystic fibrosis and continues to raise awareness about the condition by exemplifying the power of optimism and strong relationships with others. She tells us stories about how she holds small concerts with her friends to raise money for cystic fibrosis awareness, how she enjoys coffee dates with her boyfriend, and how her friends are so comfortable with her conditions that they can even joke together about coughing up blood. Her exquisite Instagram account is exemplary of the value she places on connecting with her followers. Each post offers some celebration of life, wisdom of dealing with cystic fibrosis, and witty humor.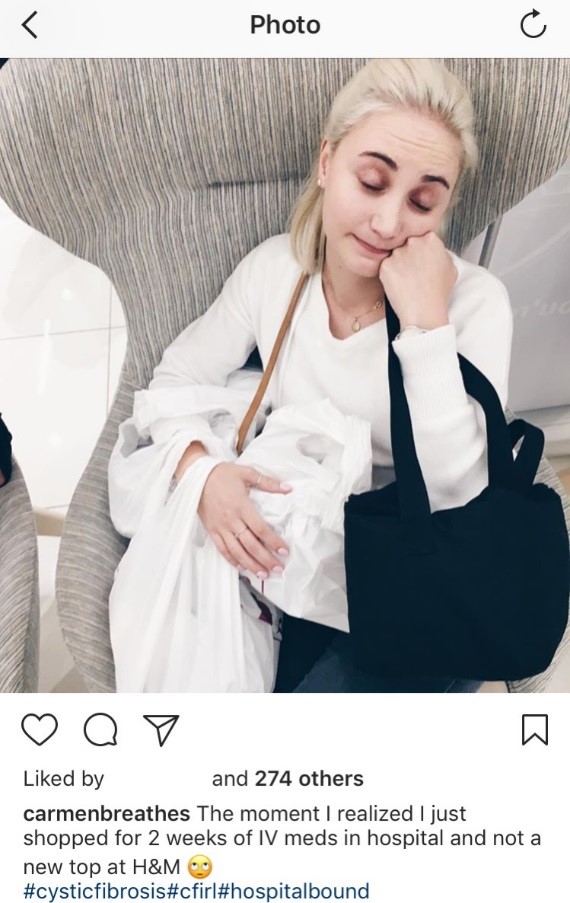 Carmen views social media as a way she can connect with the CF community and forge friendships with other people with cystic fibrosis. She has been deeply moved by the influx of positive support and shared narratives from her posts about hospital stays and moments with friends and family. Her eyes swim with excitement as she talks about her friendships with Lea Faraone and Tiffany Rich, both of whom have CF, live on the other hemisphere and whom Carmen has never met in-person. The social media platforms enable her to support to her circle of friends with CF through their toughest moments: from times of coughing up blood to Tiff's lung transplant. Carmen involves herself in countless other peoples' narratives and she values each one as an integral part of her duty and identity as a person with cystic fibrosis.
"I say this all the time, but I truly believe that cystic fibrosis is a blessing in disguise," Carmen tells us. Without CF, Carmen may not have formed many of the deeply-involved relationships that weave together her intricate life story.
Follow Carmen's Story Here:
Instagram: @carmenbreathes
Facebook: @carmenbreathes
Twitter: @carmenbreathes
Website: https://www.carmenbreathes.com/