Amanda's life was simple and small town. Having been born in Central Valley, California, it wasn't long until she was off to school, getting her degree, and marrying the love of her life at age 19.
She and her husband, Wesley, moved to Nashville after he accepted a job as a minister at a local church. From there, they started to build their family starting with two, beautiful and healthy girls, Presley and Audrey. Everything went well, but things changed when her third pregnancy arose. For one, it happened naturally without needing to use Clomid, like her other two pregnancies. Also, she acquired gestational diabetes. After 33 weeks, she had some spotting and was admitted to the hospital where a C-section was performed at week 36. Then, Amanda and Wesley welcomed their first baby boy, Emmett into the world on July 26th, 2016.

It had been 48 hours without him producing any fecal matter when doctors stepped in providing medical alternatives and x-rays. They discovered that his bowels were distended, and he was transferred to another hospital for a bowel blockage surgery. Amanda recalls feeling completely shocked when the surgeon came out momentarily to say that it was not bowel blockage but rather meconium ileus, which is seen in people with cystic fibrosis. He immediately left to finish up the surgery, with no further explanation leaving the parents dumbstruck. "At that moment, [it] really changed my life," she said. Like all parents, they looked up cystic fibrosis on the internet only to feel more grief and anxiety in this unknown realm. They took a DNA test that further confirmed, 3 weeks later, Emmett's diagnosis of CF. For almost a month, Emmett was in the NICU and released on August 19th, 2016 to go home.

Amanda is a full-time, stay-at-home mom dedicating her time to her children and their well-being. Her days consists of dropping off her oldest daughter, Presley, at school while the younger kids tag along. To prepare Emmett for the day, she does his breathing treatment, gives him antacids prior to eating and then they run errands. She picks up Presley at the end of the day and continues with evening activities that include sports, dinner, and Emmett's evening breathing treatment with his vest.

Initially, managing Emmett's illness was difficult. The main thing that helped her handle everything was making a calendar and checking off boxes. Now, things have become manageable and "you learn to make time for it, and it's just a routine after that." Amanda mentioned that it adds stress but not in the common ways. Certain seasons add more stress, like the winter time, due to flu season. She comically said, "I can hear a cough from 2 miles away!" She emphasized how crucial it is for parents to let their kids stay home when their sick to protect Emmett and her other children from bringing home any illnesses that could affect him. She manages her personal and emotional stress with great help from her loving husband who lends a hand with breathing treatments and any other needs once having returned home.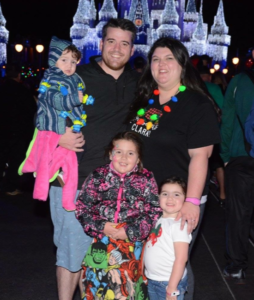 Amanda feels beyond blessed and grateful for the community that she's been introduced to since her son's diagnosis. She attends a support group for moms who have kids with CF where they connect and share happenings in the community. They all enjoy the Boomer Esiason Foundation and she never feels short of emotional support. She even recounted that, back in the day, a kid in the youth group had CF and helped shed light on the illness once they found out. He connected them to his parents who they regularly see at events that provide incredible support having 2 out of 3 of their children with CF.

She reflected on her experiences with some calm, encouraging advice to parents; cherish the time that you have with your kids and their health. "He's taught me so much in these 2+ years than the 30 I lived before." She optimistically acknowledged that parents who just discovered their child has CF should know that there have been numerous advancements even in the past 2 years! She is extremely hopeful that the world is well on their way to discovering a cure. Although, it's emotionally hard to hear that your child has a fatal, genetic disease, the worst thing to do is Google it right after. Even her daughters understand Emmett's illness through books that were given to them about CF. They were great resources and even had them for different age levels.
Her passion seeped through as she got choked up discussing how her faith has played the largest role in all of this. "Don't give up hope – for me personally, God is going to take care of him no matter what." She concluded profoundly that even if CF takes him today, she's going to be with him for eternity.